Construction Excellence Awards
Historic Preservation - Building Over $5 Million
BPGS Construction LLC
101 DuPont Place
This adaptive reuse of a major portion of the iconic DuPont Building vividly illustrates how our historic building fabric in Wilmington can be creatively adapted to accommodate new and financially viable uses to preserve our community's built heritage. As with every renovation of this scale, finding a way to unobtrusively insert the new heating, cooling, and life safety systems for 184 luxury apartments and amenity spaces was the main challenge which the BPGS team solved admirably. The "icing on the cake" was the beautiful restoration of several original double height executive conference rooms which required a high level of craftsmanship, skillfully coordinated amongst several trades.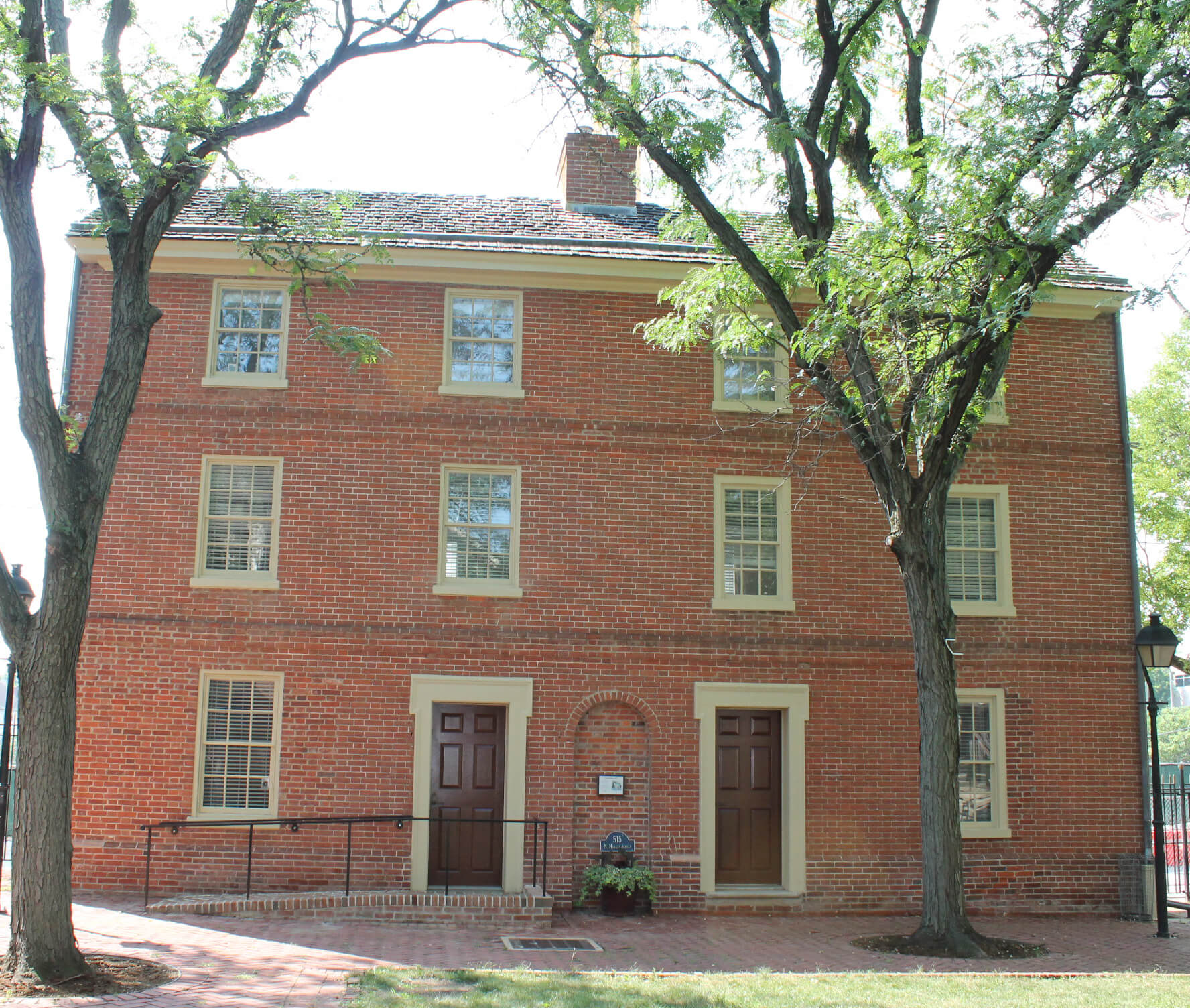 Historic Preservation - Building Under $5 Million
EDiS Company
The Coxe House Renovation
This renovation of this historic house that has become an integral part of the urban fabric of Wilmington's Market Street exhibited a wide array of creative concepts to be completed in a relatively short span of 5 months.
The biggest challenge for any renovation of a historic building is how to sensitively insert new heating, cooling, and life safety system into the historic fabric of the existing building. The care EDiS has taken to achieve this daunting task is evident in the clean and undamaged interior and exterior finishes in the Coxe House, all while working under COVID construction limitations. Of special note is the brilliant idea of re-subdividing the Willingtown Square complex into one tax parcel to allow only one main fire service tap and sprinkler manifold to eventually service all four buildings on the site at a future savings of approximately $85,000.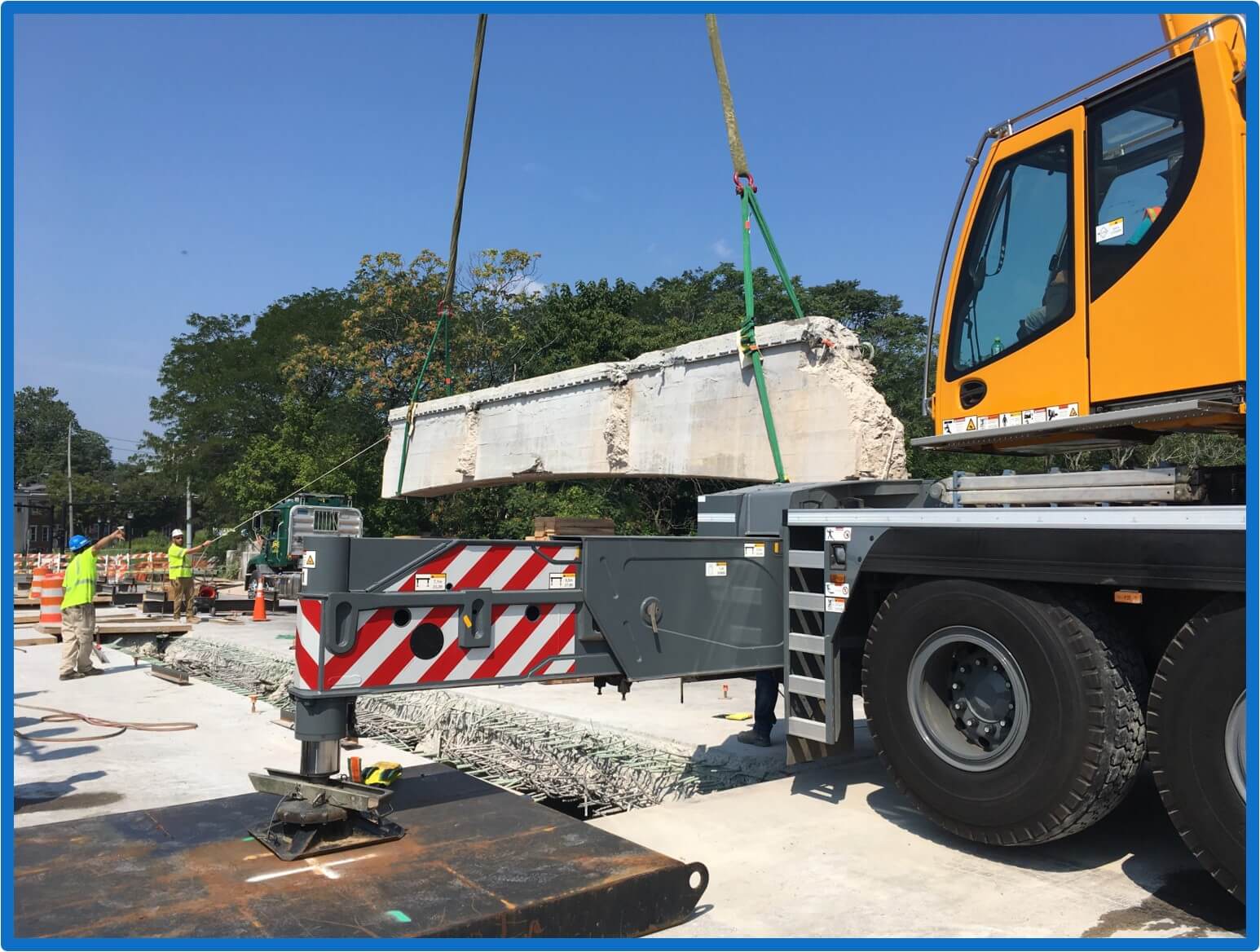 Historic Preservation - Bridge Under $5 Million
Eastern Highway Specialists
Rehab of BR1-577 Over North Boulevard
This $3 million project called for the rehabilitation of BR1-577 on North East Boulevard over the Brandywine. The bridge, which was built in 1932, needed major structural repairs as well as an upgrade to the intersections on either side of the bridge. DelDOT contracted with Eastern Highway Specialists to perform the bridge repairs which involved replacing six structural beams that are part of the undercarriage of the span. One of the key aspects of the craftsmanship was that upon completion of the project, it was not noticeable to the naked eye that any work had been done at all.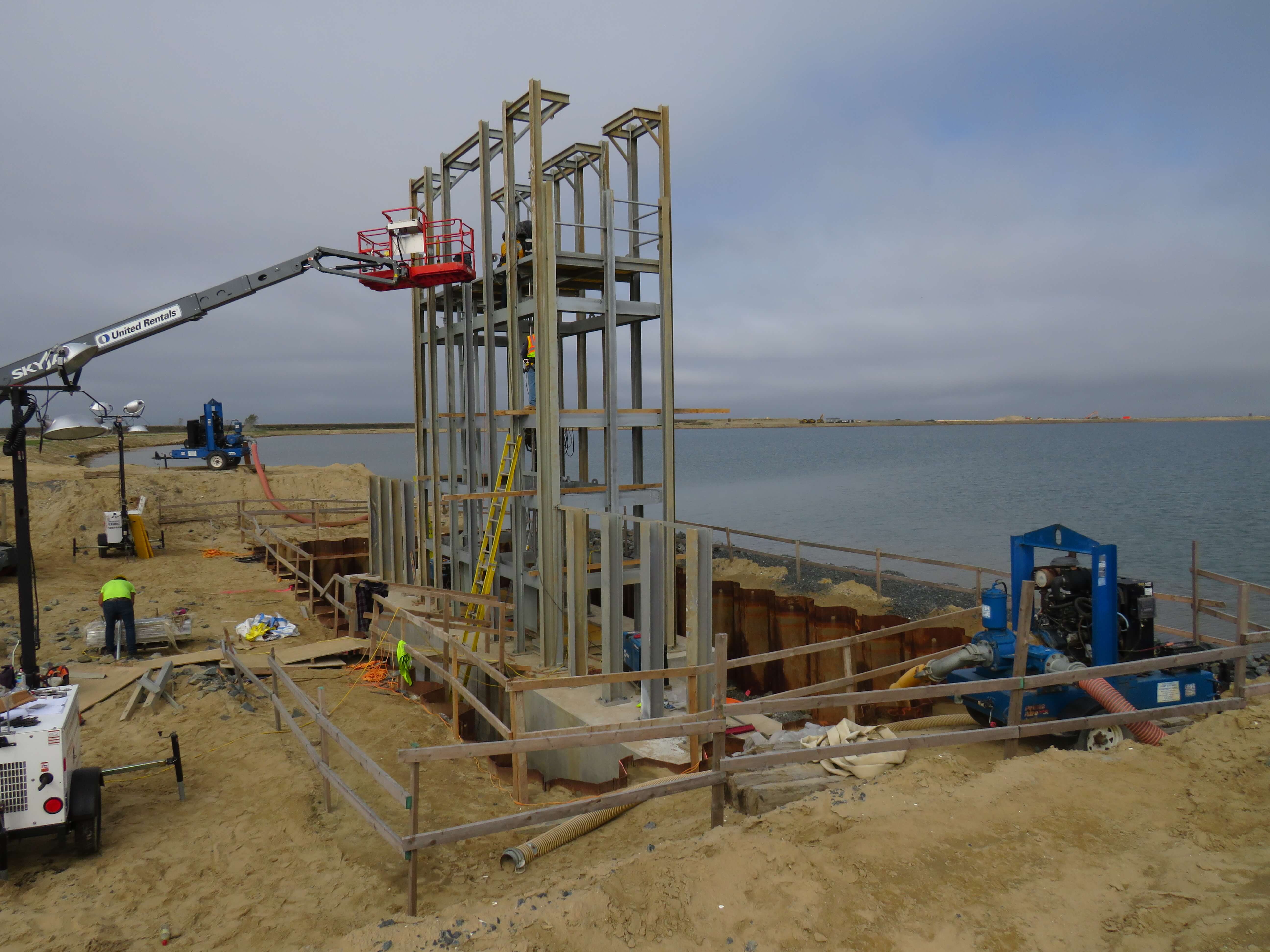 Special Projects Under $500,000
GFP Cement Contractors LLC
Poplar Island Spillway
This spillway project was an integral part of the Poplar Island reconstruction project, whose goal was to restore remote island habitat in the Chesapeake Bay. The logistics of constructing this project in a remote location were challenging and included barging of materials and equipment and the utilization of batch mixing trucks and elaborate thermal control measures necessary for this massive concrete pour. The project was completed as required in spite of the weather challenges presented by working in this open water environment.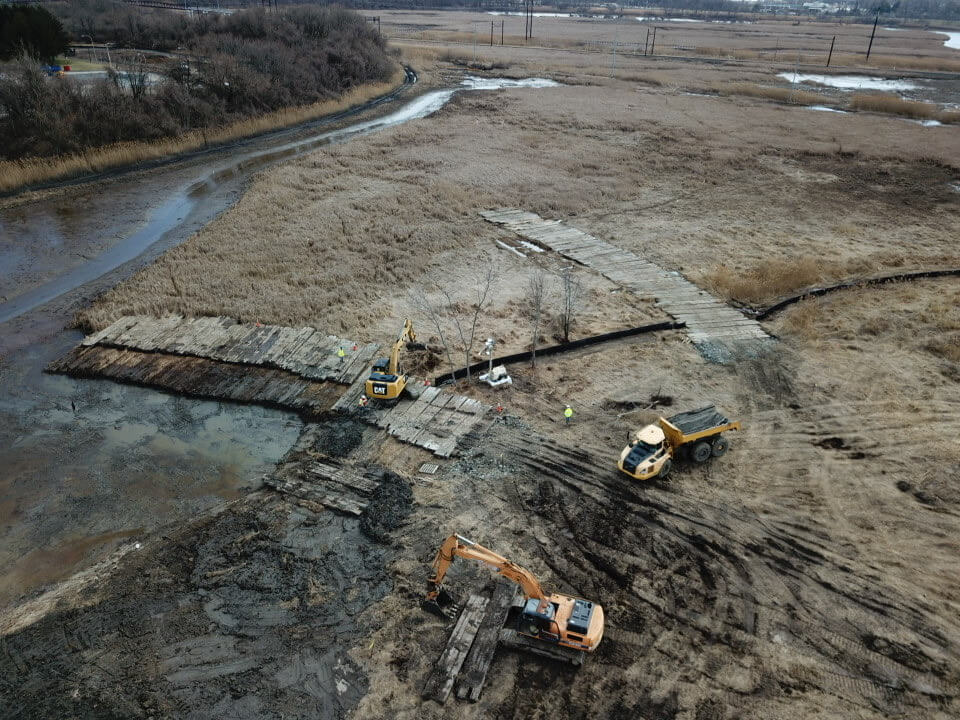 Special Projects Over $500,000
JJID, Inc.
Wetland Mitigation at Peterson Wildlife Refuge, Phase 2
The project involved the construction of the Phase 2 wetland mitigation at the Peterson Wildlife Refuge at the Wilmington Waterfront. JJID utilized a number of technological tools and equipment to achieve the very tight grading tolerances required for creating they hydrology needed in this mitigation project. Working in a tidal environment and in a year with near historic rainfall amounts, the contractor was able to meet project schedule and performance requirements.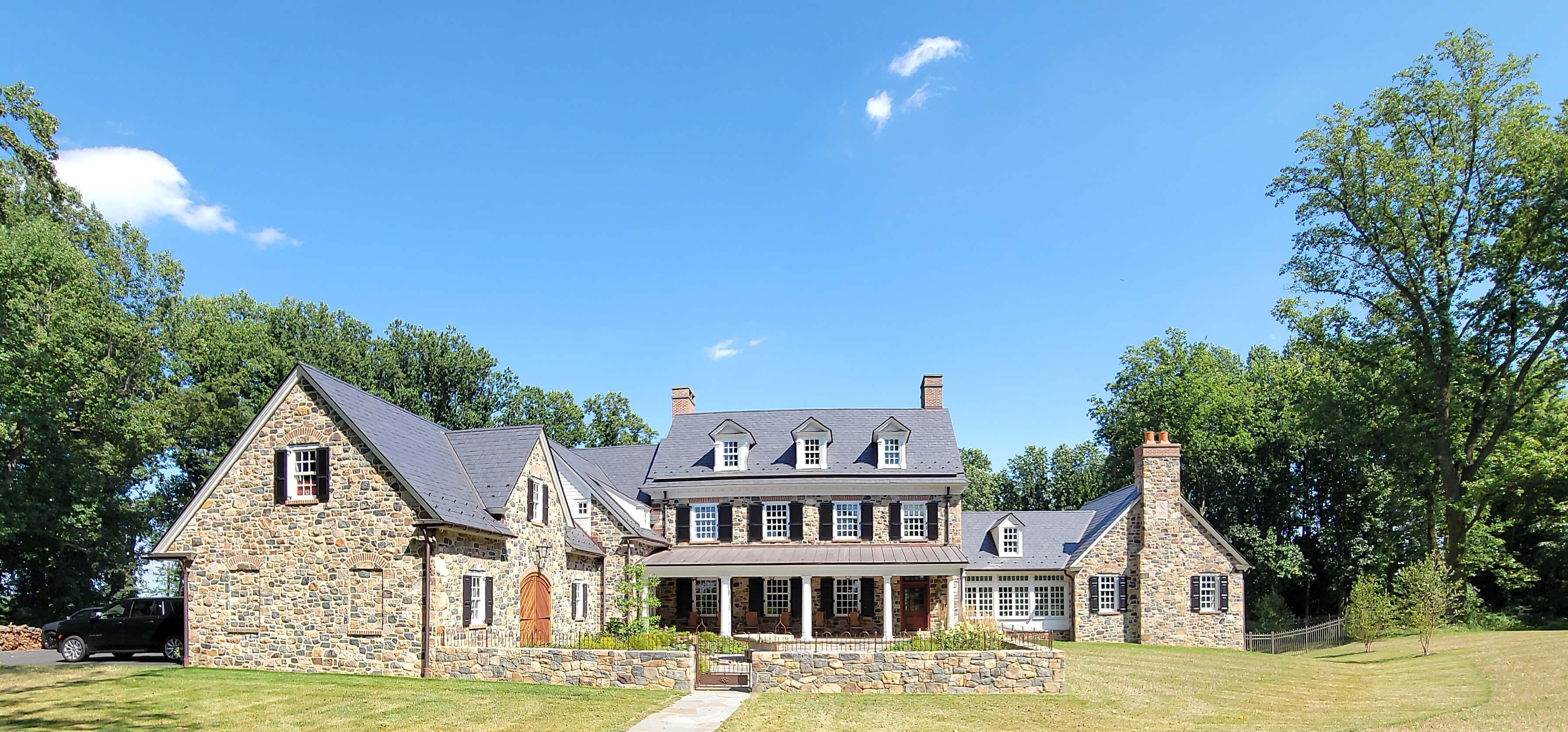 Residential Single Family
Dewson Construction Company
Family Home Renovation, Lewes, DE
This project created a classic farmhouse with exceptional attention to both interior and exterior detail. The execution of this project involved significant owner coordination and material logistics challenges. The craftsmanship evident in this project sets it apart.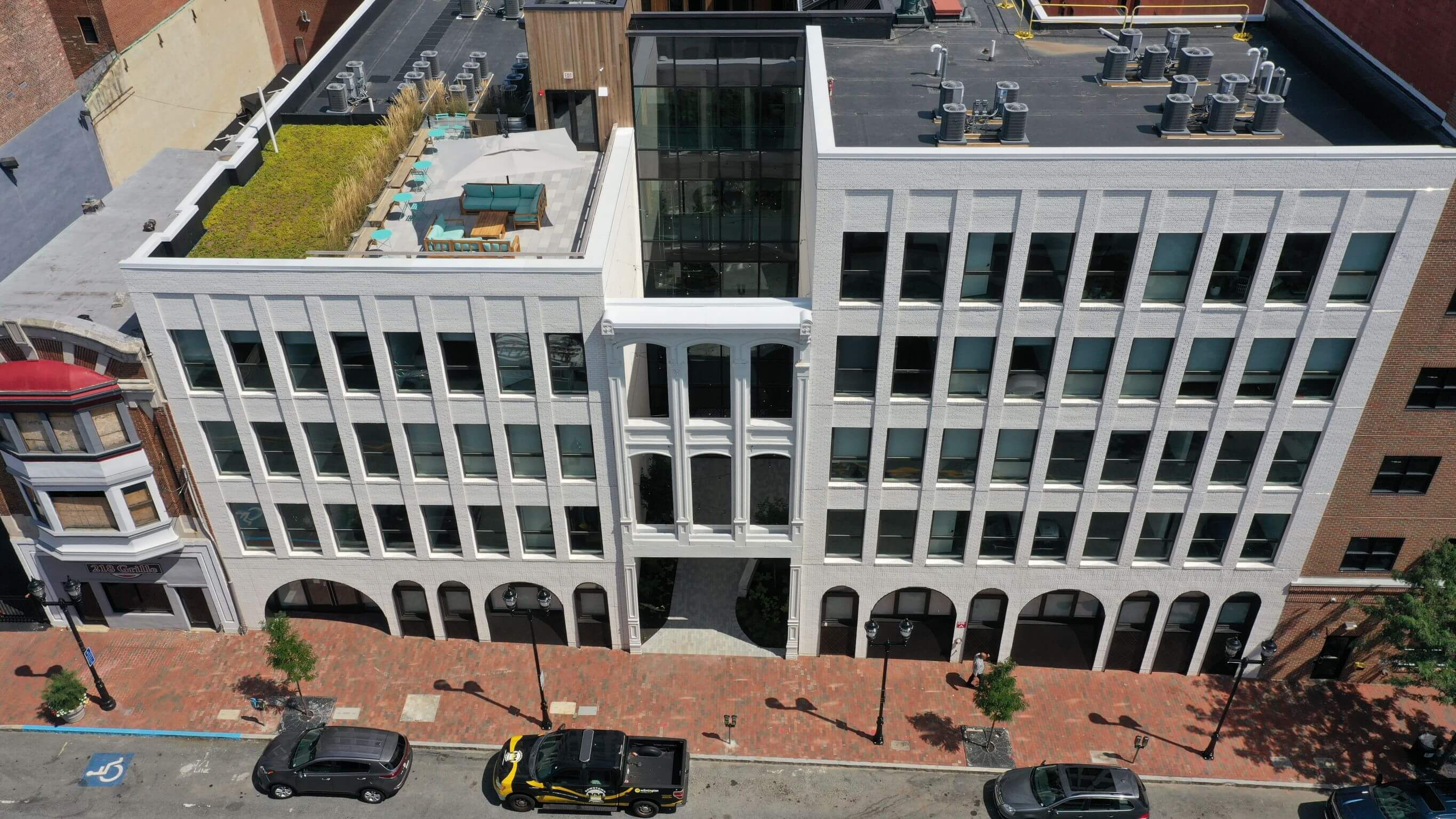 Residential Multi-Family
BPGS Construction LLC
The Cooper
This 92-unit apartment project, which involved the conversion of an historic multi-story furniture store, masterfully preserved the building's iconic iron façade while integrating modern day materials and exceptional architectural detail and craftsmanship. The building also incorporates a one-of-a-kind courtyard which serves as an amenity to building residents and as a semi-public urban pocket park in this historic metropolitan area.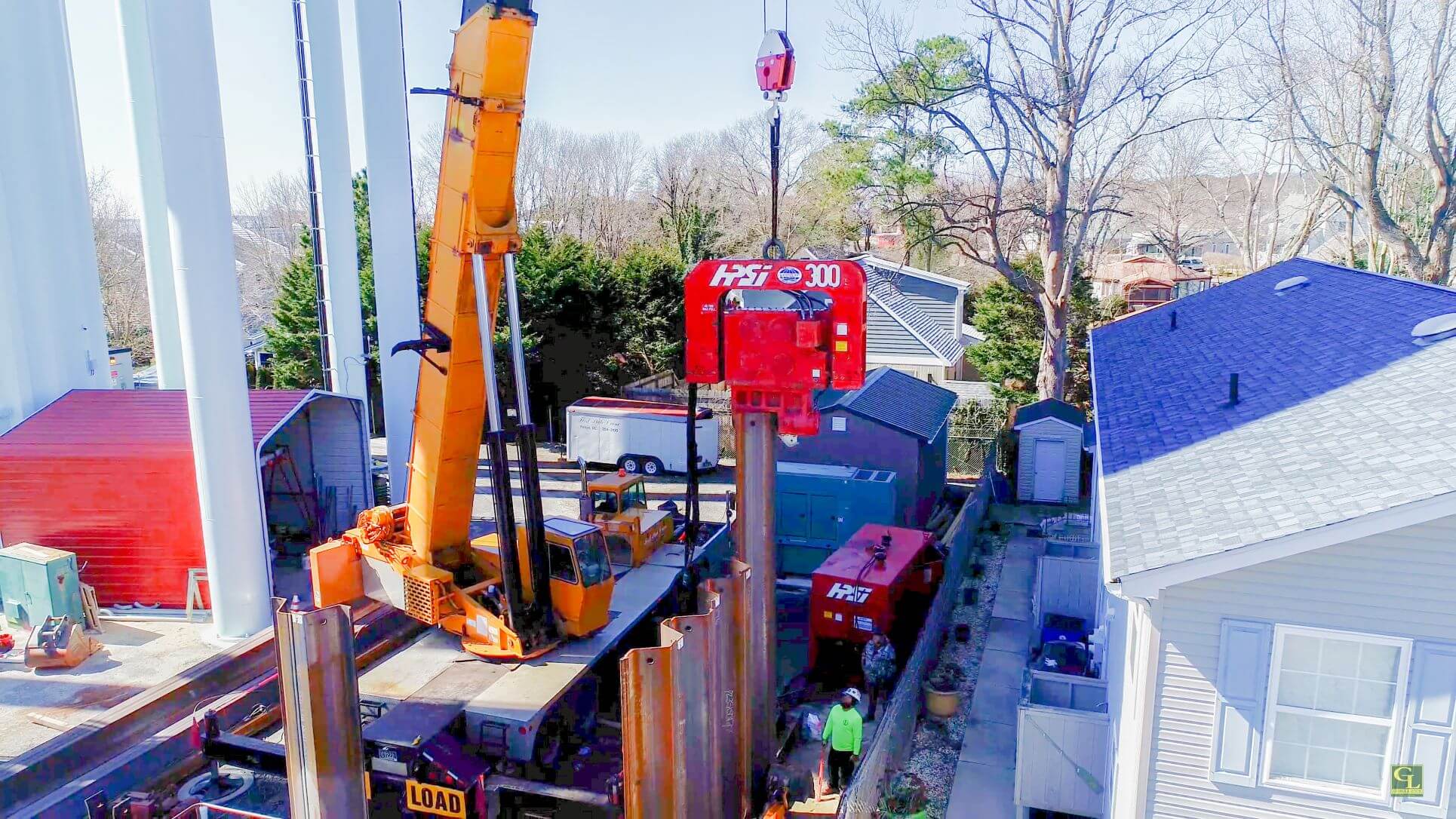 Infrastructure Under $5 Million
George & Lynch, Inc.
Dewey Beach Pump Station 2 Rehabilitation
This design build project involved the installation of a new pump station and ancillary equipment on a very challenging site. Because of the extreme depth required for the new pump station which was in close proximity to existing buildings and a water tower an elaborate sheet pile retaining system was implemented. The project also had to deal with a high-water table. The contractor developed and implemented a seismic monitoring program to address the potential for damage to adjacent structures. In spite of these challenges, the project was constructed safely and within schedule constraints.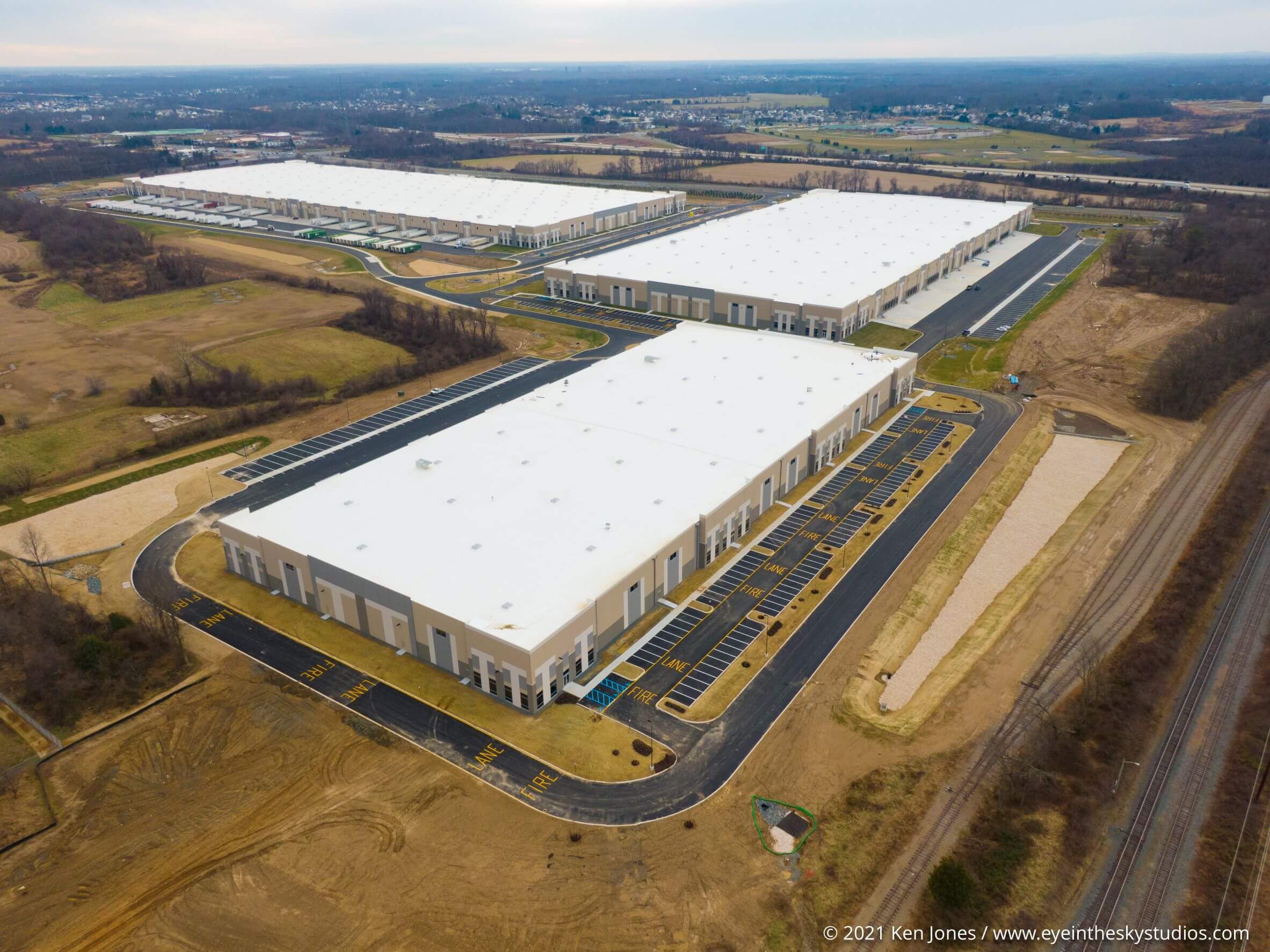 Infrastructure over $20 Million
Corrado Construction Company
Delaware Logistics Park
This project involved the site construction on a 134-acre site that was to support three logistics building totaling 1.75 million square feet. Working under an extremely aggressive delivery schedule, Corrado developed and implemented a sophisticated critical path schedule that enabled simultaneous construction at multiple locations on the project site in order to complete almost 600,000 cubic yards of earthwork during favorable weather months. This project also involved constructing over 10 miles of utilities, almost 7 miles of curbing and 42,000 tons of paving, all accomplished within the demanding project schedule.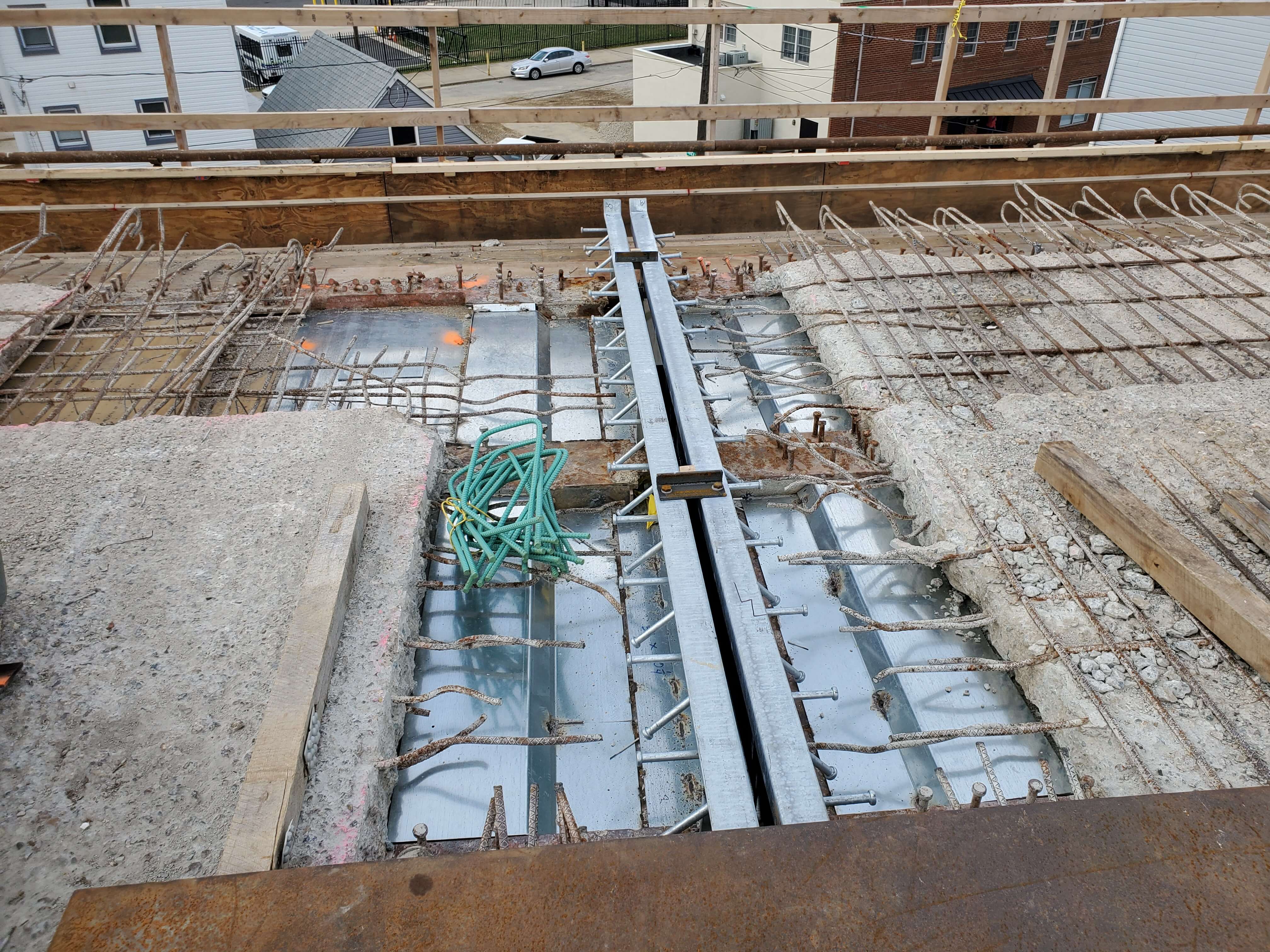 Highway Over $15 Million
Richard E. Pierson Construction Co., Inc.
2nd Street Ramp Improvements
This project, which was part of DelDOT's I-9r Viaduct Reconstruction and replaced obsolete ramps at 2nd and North Jackson Street. Many challenges were overcome by the Pierson including a very tight delivery time frame, construction a major interstate, addressing COVID related logistics and material impacts and changed field conditions. The Contractor utilized a number of innovative construction techniques including precasting major structural components, specialized modified deck overlay material and slipforming parapets and barriers. These innovations enable Pierson to meet the aggressive project deadline so the ramps could reopen to the travelling public.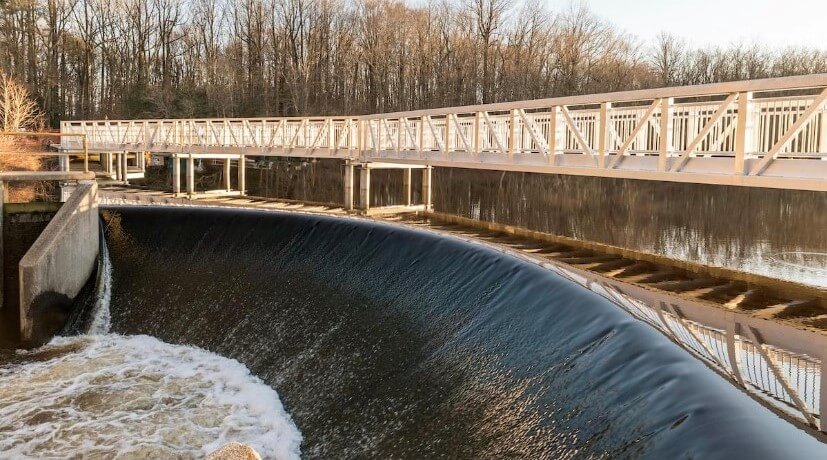 Infrastructure Under $1 Million
Richard E. Pierson Construction Co., Inc.
Killens Pond State Park Elevated Walkway
This project involved the construction of an 860-foot-long elevated pedestrian walkway across Killens Pond adjacent to Killens Pond Road. Pierson drove over 200 galvanized pipe piles to very tight project tolerances, installed prefabricated aluminum walkway trusses as well as completing ancillary trail and parking lot construction. Project challenges included working over water using barges, maintenance of traffic on an adjacent roadway, minimizing disruption to park staff and operations and minimizing environmental impacts to Killens Pond. The owner's chief of construction praised the work done by Pierson on this project.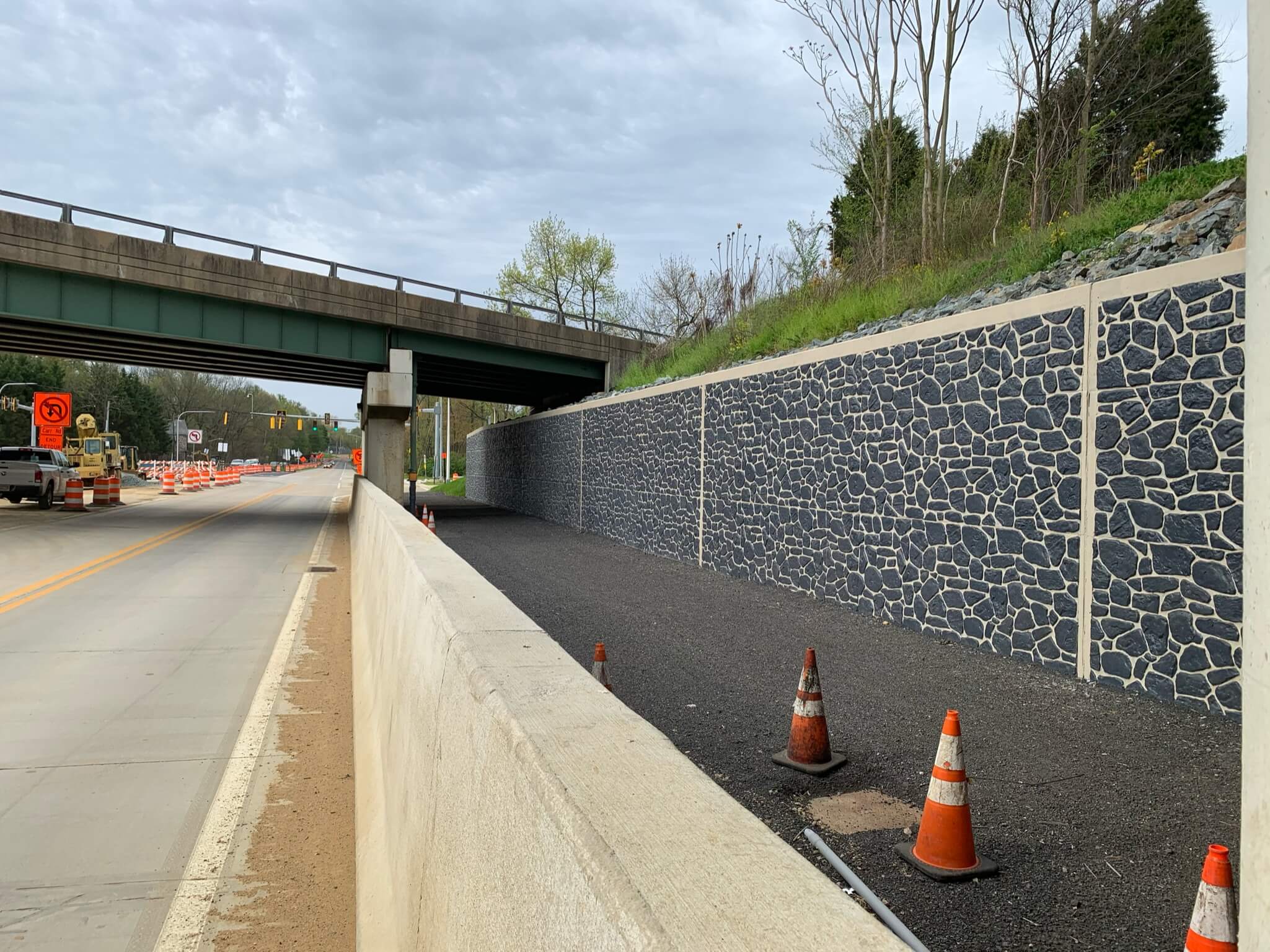 Highway Over $10 Million
Greggo & Ferrara, Inc.
I-95, N213 Carr Road & SR 3, Marsh Road, Interchange Improvements
Greggo & Ferrara were awarded these interchange improvement projects by DelDOT to address safety issues for motorists, pedestrians and bicyclists. Early in the construction, this multi-phased project encountered Brandywine Blue Granite Rock throughout the project sites at locations not originally indicated on the construction drawings. The Brandywine Blue Granite is an extremely dense hard rock that makes its removal very challenging. Working closely with the design engineers and DelDOT the Greggo & Ferrara team implemented an elaborate program at rock removal where required and the redesign at retaining walls and utility relocations and consolidation to adapt to the encountered rock and to minimize rock removal and reduce the additional costs. Additionally, innovative soil nailing was utilized to enable construction of earth retaining structures while reducing costly rock removal. As a result of these efforts, the project was successfully completed and reopened to traffic and pedestrians.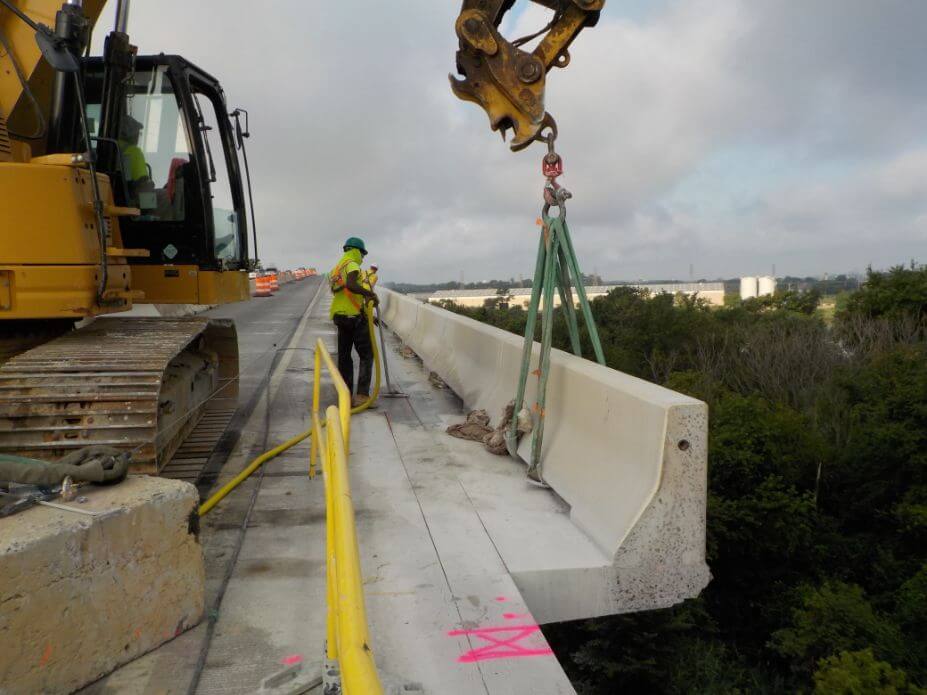 Bridge Over $15 Million
Mumford and Miller Concrete, Inc.
Rehabilitation of Bridges 1-810-, 1-811, 1-812, 1-813, and I-495
Mumford & Miller was selected by DelDOT to rehabilitate four bridges on I-495 to restore their integrity correct safety defects and improve aesthetics. In spite of the challenges of working in extreme summer heat, working adjacent to a heavily trafficked interstate highway, working nights and an aggressive project schedule, the contractor was able to complete this critical bridge rehabilitation project one month ahead of schedule. This early completion was the result of a number of innovations implemented by the contractor including improved hydro-demolition of bridge decks and performing vertical plunge outs to remove large sections of bridge deck and parapet wall intact.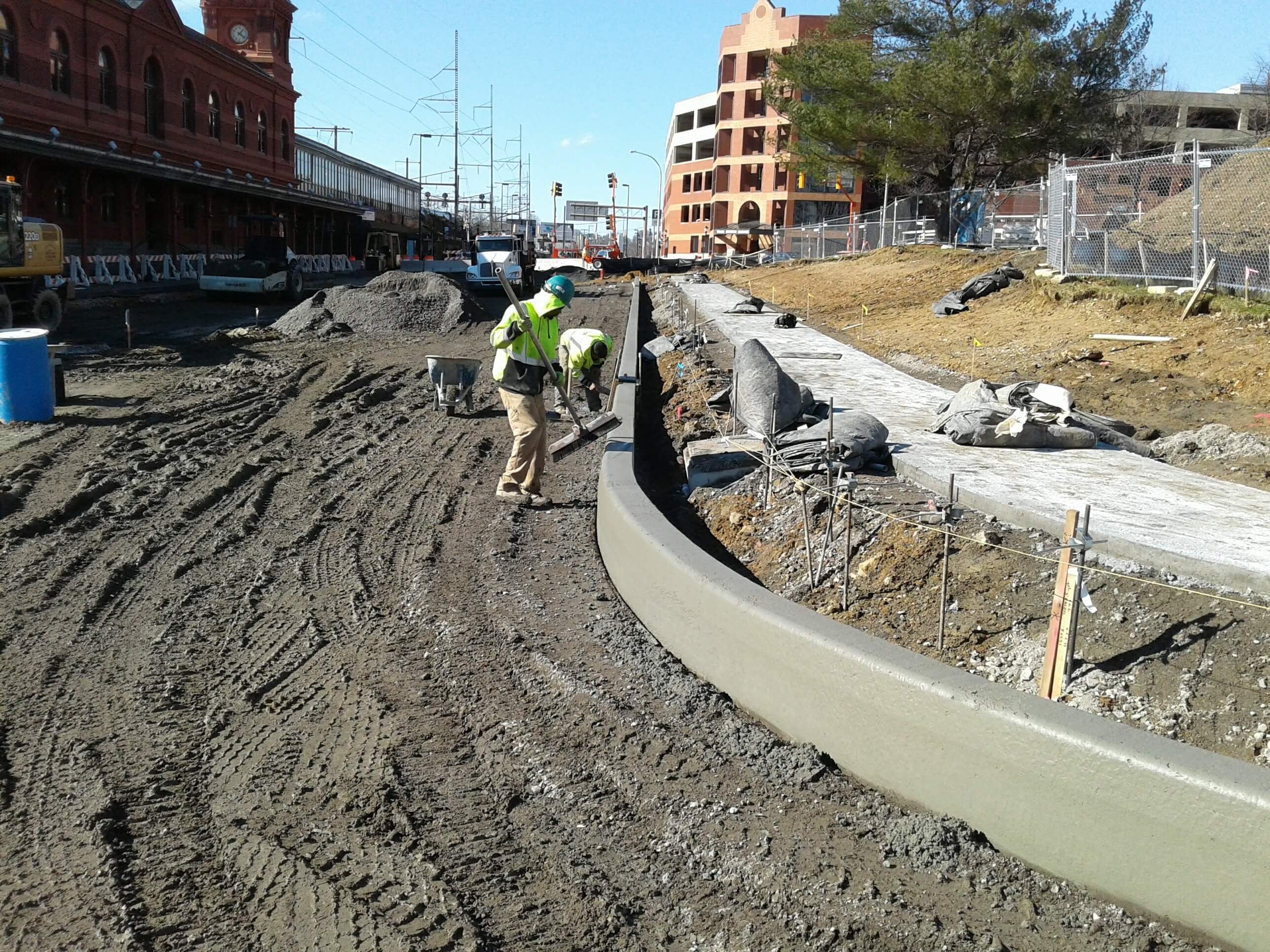 Highway Under $5 Million
Mumford and Miller Concrete, Inc.
Walnut Street, Front Street to 3rd Street, Wilmington
Mumford and Miller successfully executed Delaware's first Department of Transportation CM/GC pilot project overcoming numerous challenges.  The site is located at the transportation hub of Wilmington's train and bus stations along a heavily trafficked main corridor into Wilmington.  The project incorporated significant upgrades to both roadways and pedestrian pathways that placed challenging scheduling demands on the project due to its high automobile, transit and pedestrian use. In addition to having to be innovative in safely rerouting these modes of transportation, the project had the added challenge of existing underground utilities with unknown locations and depths due to the age of the facilities.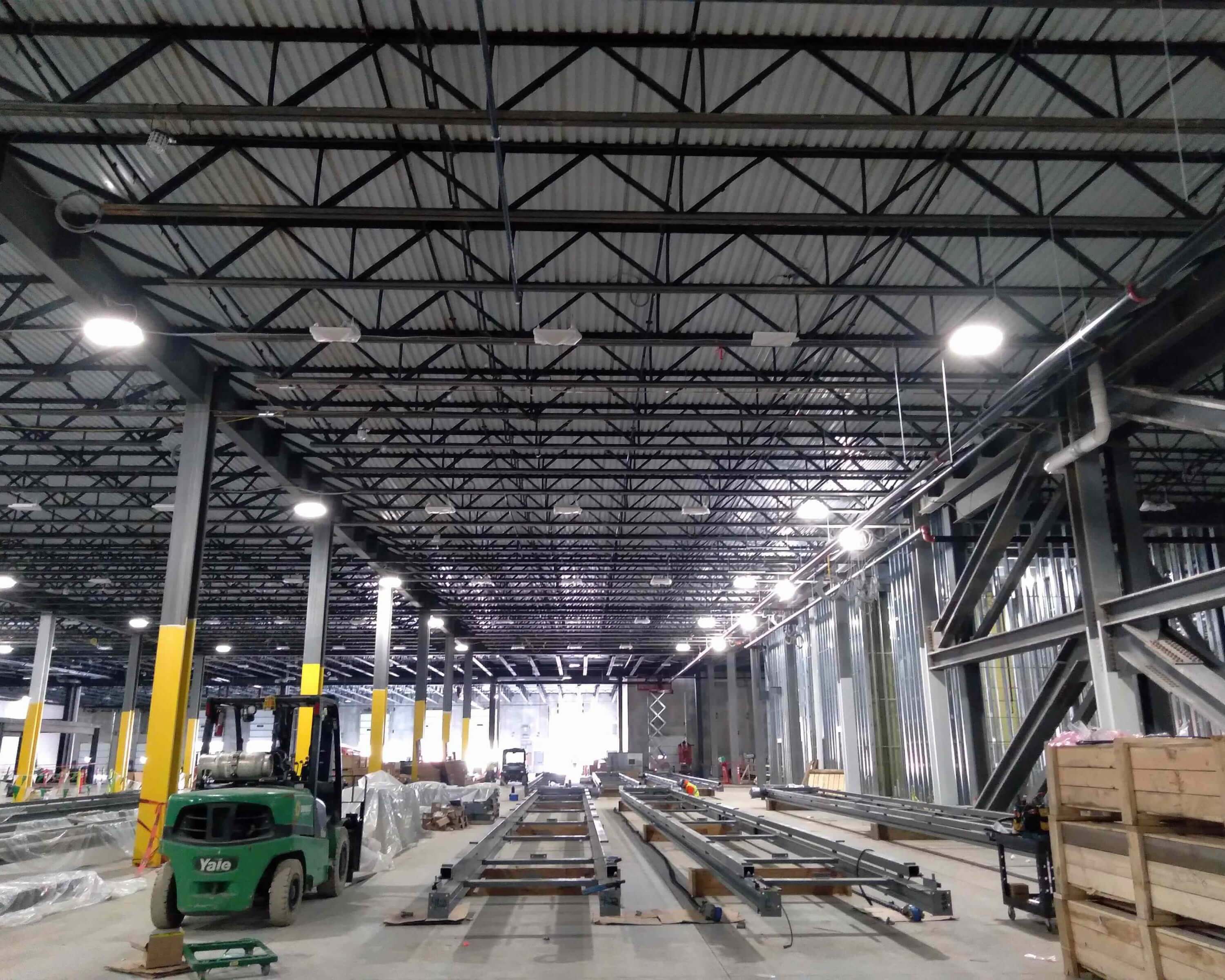 Excellence in Craftsmanship - Mechanical
J.F. Sobieski Mechanical Contractors, Inc.
Project Sophia - Logistic Center
Sobieski completed the entire plumbing installation for this massive 3.8 million square foot Amazon Logistic Center under an extremely aggressive project schedule all during the COVID-19 pandemic. The project involved the fabrication and installation of over 30,000 feet of piping. In addition to the impacts of COVID-19 on the work environment, material deliveries and other logistics issues, the Sobieski team worked closely to coordinate with other building trades to meet the Owner's fast track design and construction schedule.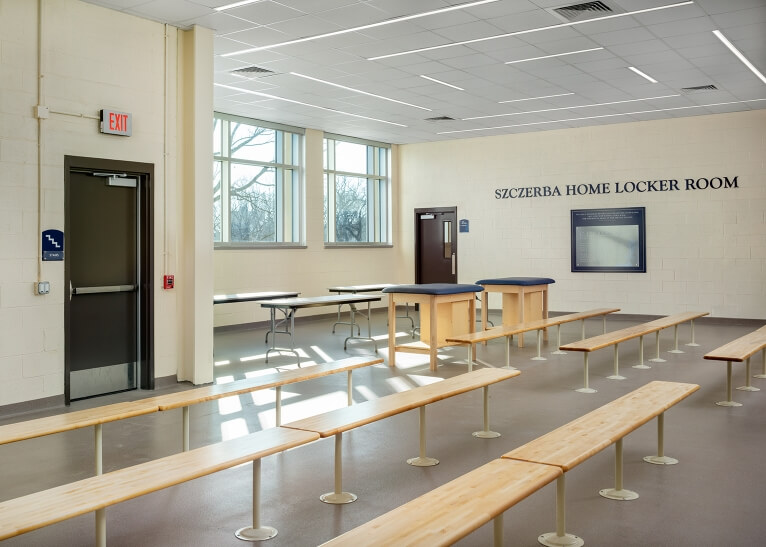 Excellence in Craftsmanship - Controls
ModernControls, Inc.
Salesianum Abessinio Stadium
ModernControls, working with the project Mechanical Engineer and the General and HVAC contractors completed a state-of-the-art building automation control system for the building's variable refrigerant climate control equipment. As a result, the buildings occupant will enjoy a highly energy efficient climate control regime that provides maximum flexibility and control. ModernControls achieved this within project schedule and budget constraints.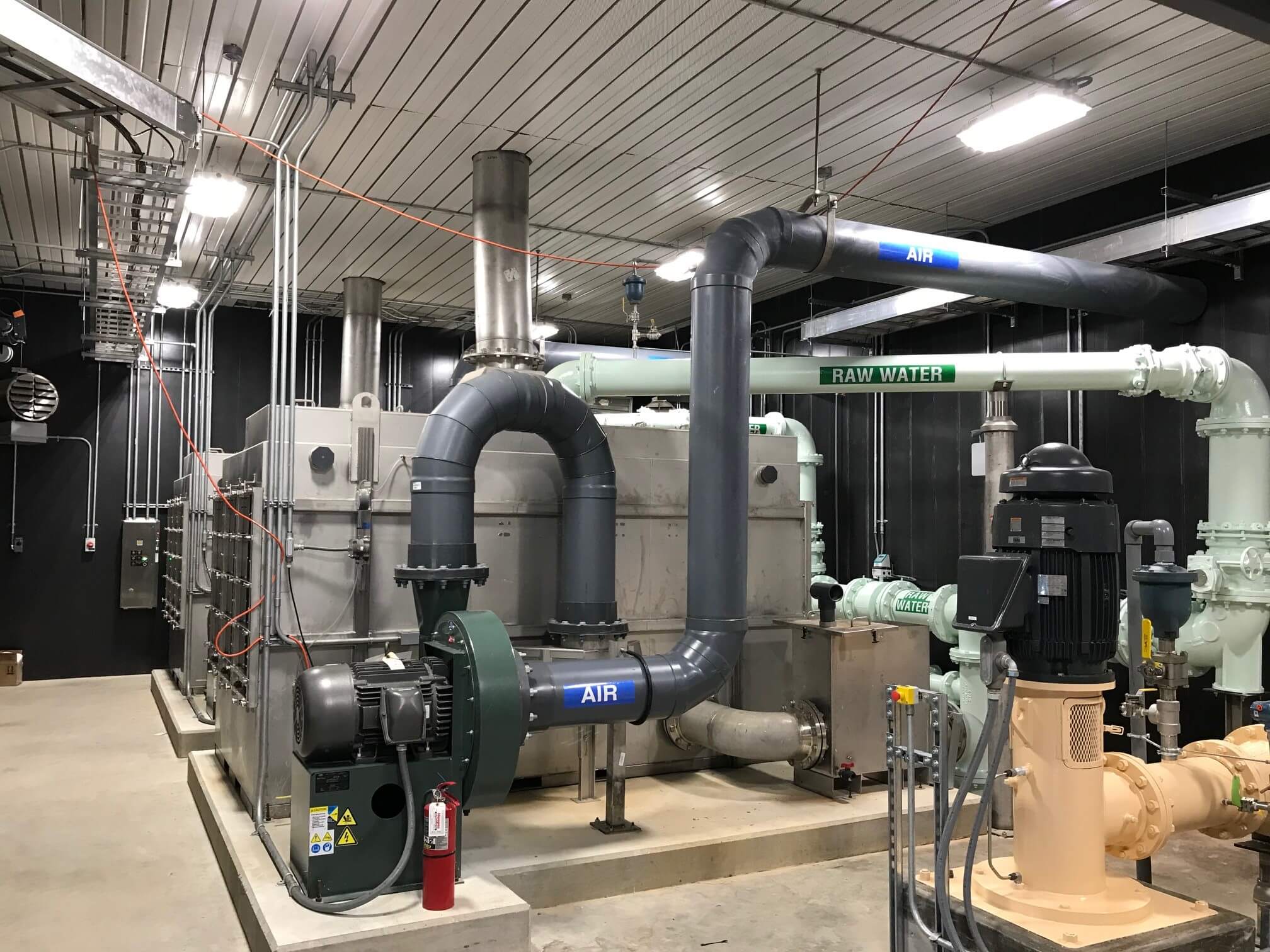 Excellence in Craftsmanship - Electrical
Preferred Electric, Inc.
City of Newark South Well Treatment Plant
Preferred Electric provided the installation of electrical distribution, lighting, fire alarm and controls and lighting protection for the City of Newark's South Well Field Water Treatment Plant. This project involved the involved the installation of an air stripper critical to improving the drinking water quality to City residents. The project faced a number of challenges including site access, working in an active water treatment plant and coordinated and time limited electrical shutdowns. In spite of these challenges, Preferred successfully completed this key project component.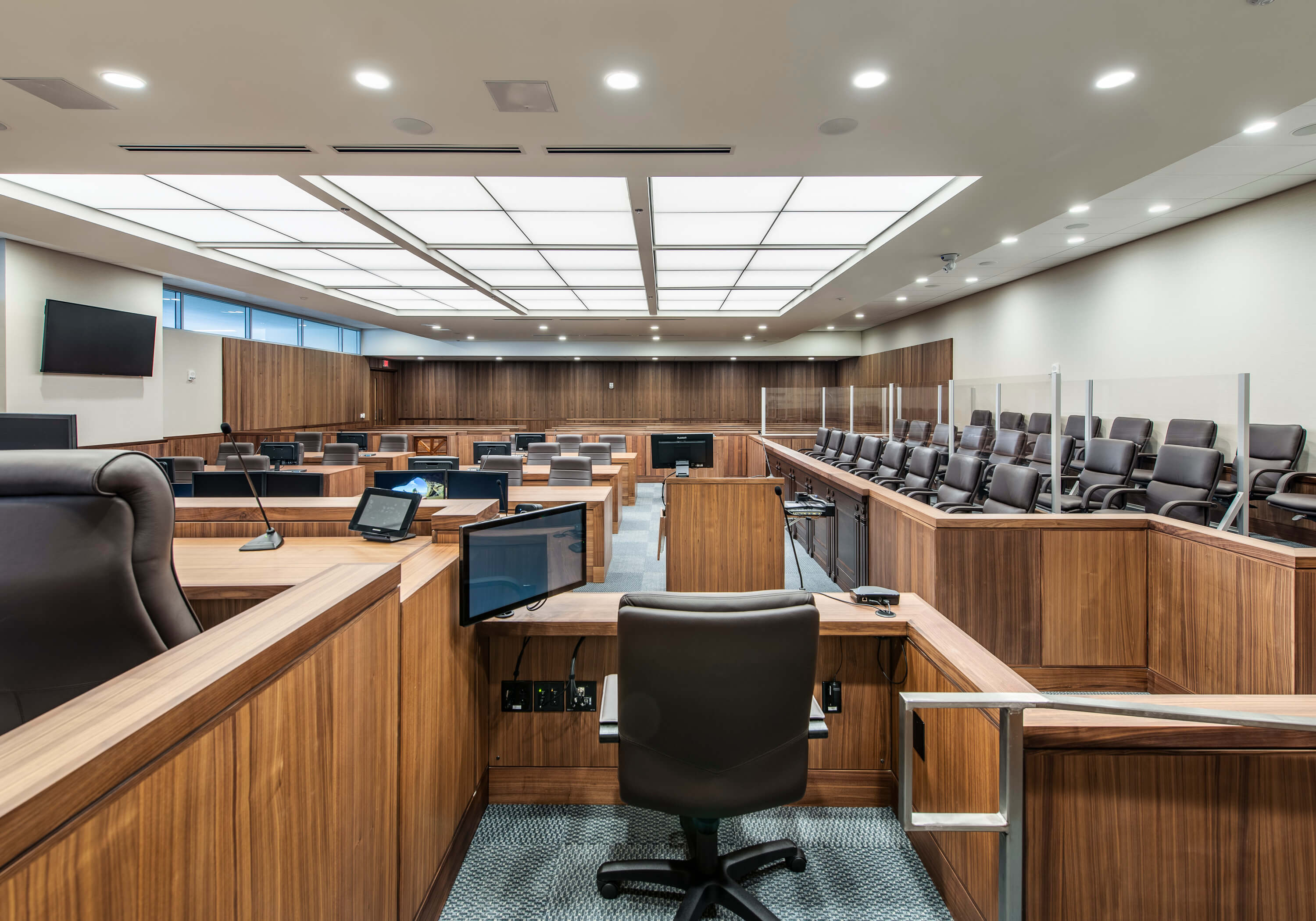 General Building Over $5 Million
Bancroft Construction
Williams Justice Center 7th Floor Fit-Out
The Williams Justice Center 7th Floor Fit-Out included a renovation of the existing 7th floor shell space as well as the removal of the existing storage partitions and fence dividing the portions of the shell space. It was surprising to many that nearly 20 years of building occupancy, the entire 7th floor had remained unfinished and unoccupied. Bancroft had to overcome several logistical challenges including scheduling, security concerns, challenging weather conditions, and the COVID-19 pandemic. The team carefully selected acoustic wood wall panels to achieve low acoustical levels for a quiet courtroom. The sound absorbing panels contained significant millwork components creating a solid aesthetic within the rooms.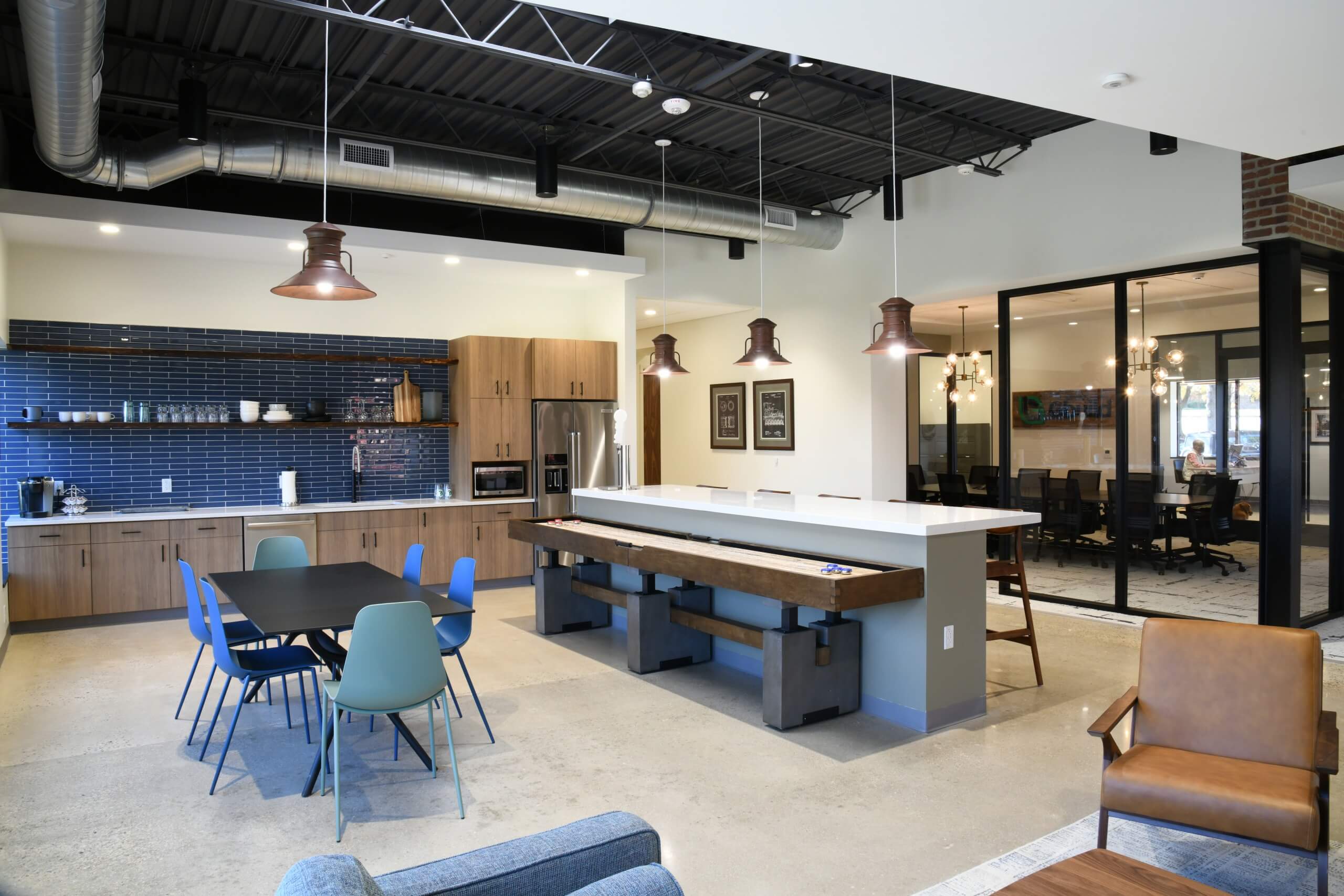 General Building Under $1 Million
Gbuild Construction Managers
Gbuild Headquarters
Gbuild worked closely with the architect from design to finish, providing feedback and creatively staying within the desired design and budget. The objective of this project was to take an existing building and create a space that served many purposes. The space includes offices, open work spaces, a 1,000 sf warehouse, kitchen, gym conference room, and soft seating areas. The teamwork exhibited was extraordinarily well coordinated and proved to produce a successful project.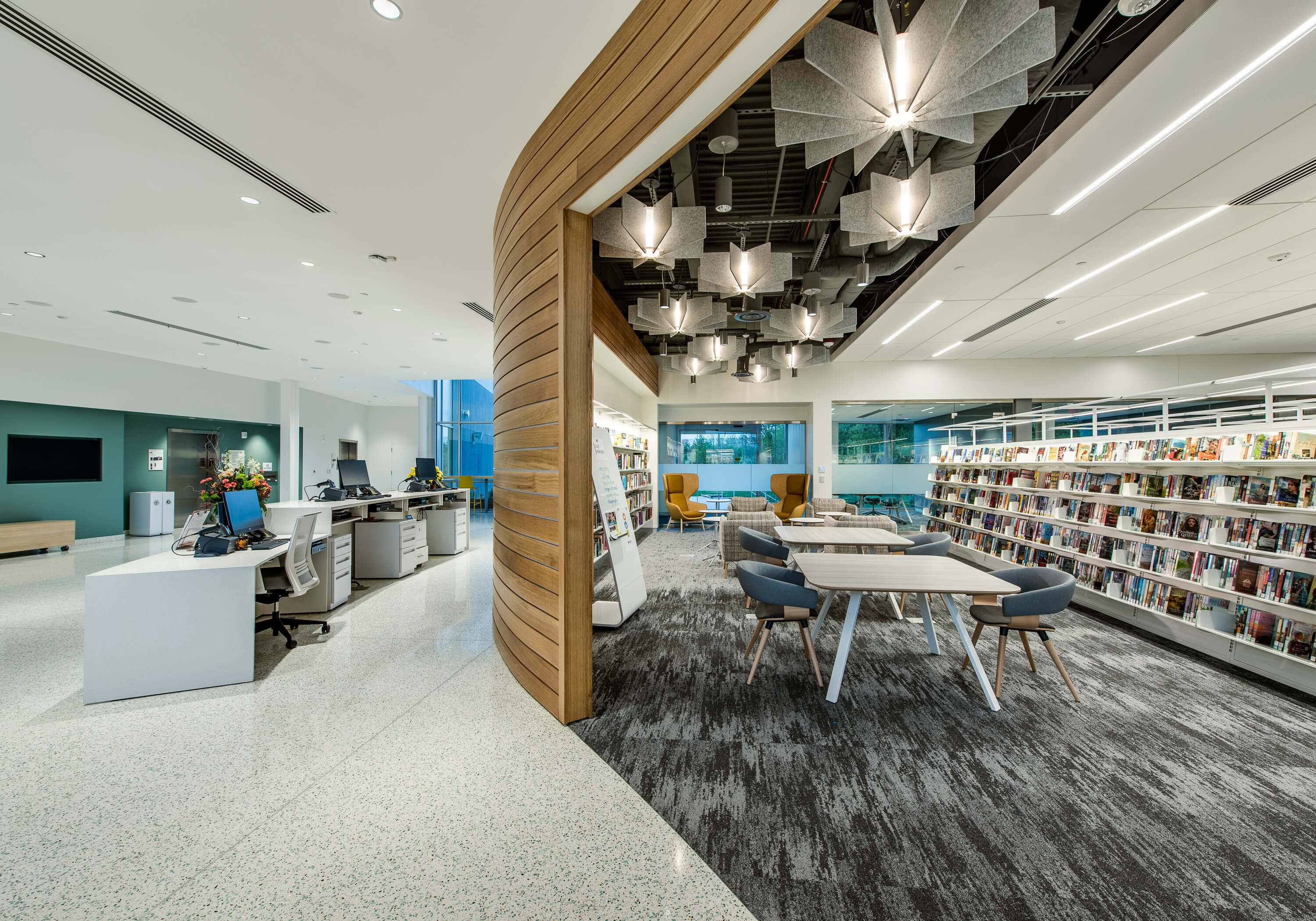 Civic Construction Over $15 Million
Wohlsen Construction Company
Cecil County Public Library - North East Branch
This new 47,225 sf facility was a dream of the community for over a decade and the design and craftsmanship had to be of the highest quality. The new library is designed for adults, teens, and young children alike, and includes spaces for meetings, a technology suite, an entrepreneurial center, hands-on learning centers, a quiet reading room with a gas fireplace, ten study co-working rooms, a digital media lab with a sound booth and recording studio, a second-floor exterior patio, and administrative wing, and so much more. BIM models were used to provide real-time costs estimating options as well as catch issues that would have been costly to discover during construction. The quality of the facility is something the entire library community and project team can be most proud of.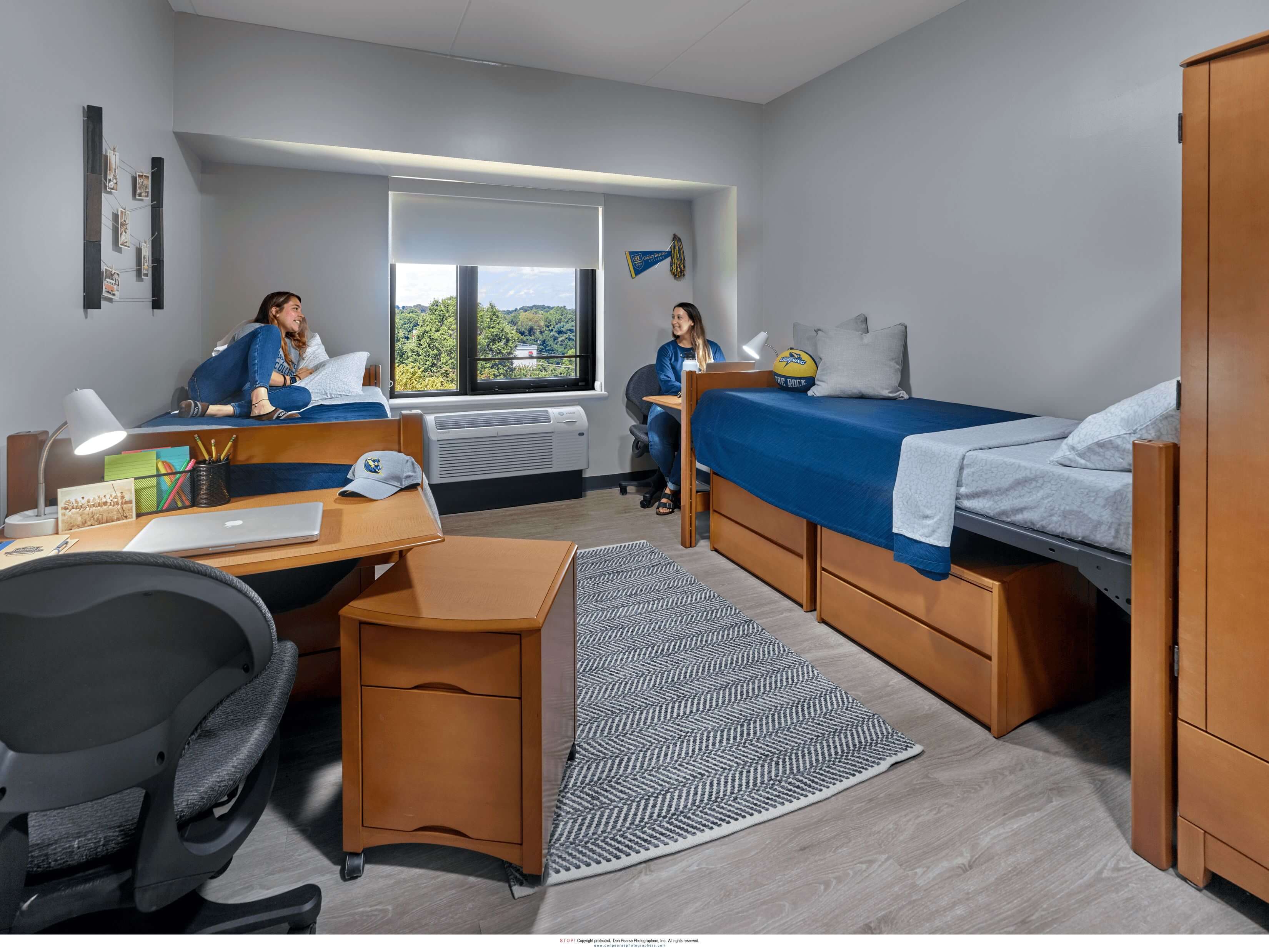 Higher Education Over $30 Million
EDiS Company
Franta Residence Hall & Jones Center Renovations
Goldey-Beacom College's (GBC) project initially included only the construction of Franta Hall. As planning began, the GBC leadership realized there was an opportunity to provide expanded services and value to its students through renovation to the Jones Center.  The Franta Residence Hall includes single and double dormitory style rooms, a chapel and laundry room. Renovations to the Jones Student Center include new dining services and expanded fitness center with weight training and additional locker rooms for NCAA Division II Athletics. Regardless of the challenges, which included construction on an active campus, and COVID-19 the residence hall and renovated student center were completed on time and budget.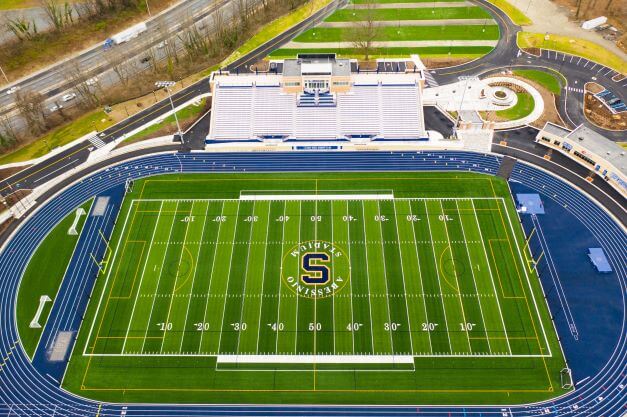 General Building Over $20 Million
The Whiting-Turner Contracting Company
Salesianum School Abessinio Stadium
Abessinio Stadium, formerly Baynard Stadium, is a 13.75-acre sports and fitness complex located in Wilmington, Delaware. The facility was built to house and operate Salesianum Athletics, Howard Athletics, and DNREC/the Delaware State Parks Department along with public use and private rentals. Everything on the site is built around the track and field. The greatest example of teamwork was associated with the site logistics and sequencing of work. The tight schedule meant the team had to optimize site logistics to allow track and field construction to be concurrent with vertical building. Whiting-Turner was able to meet the challenge and finish the project before Salesianum's Fall Football opening in November 2020.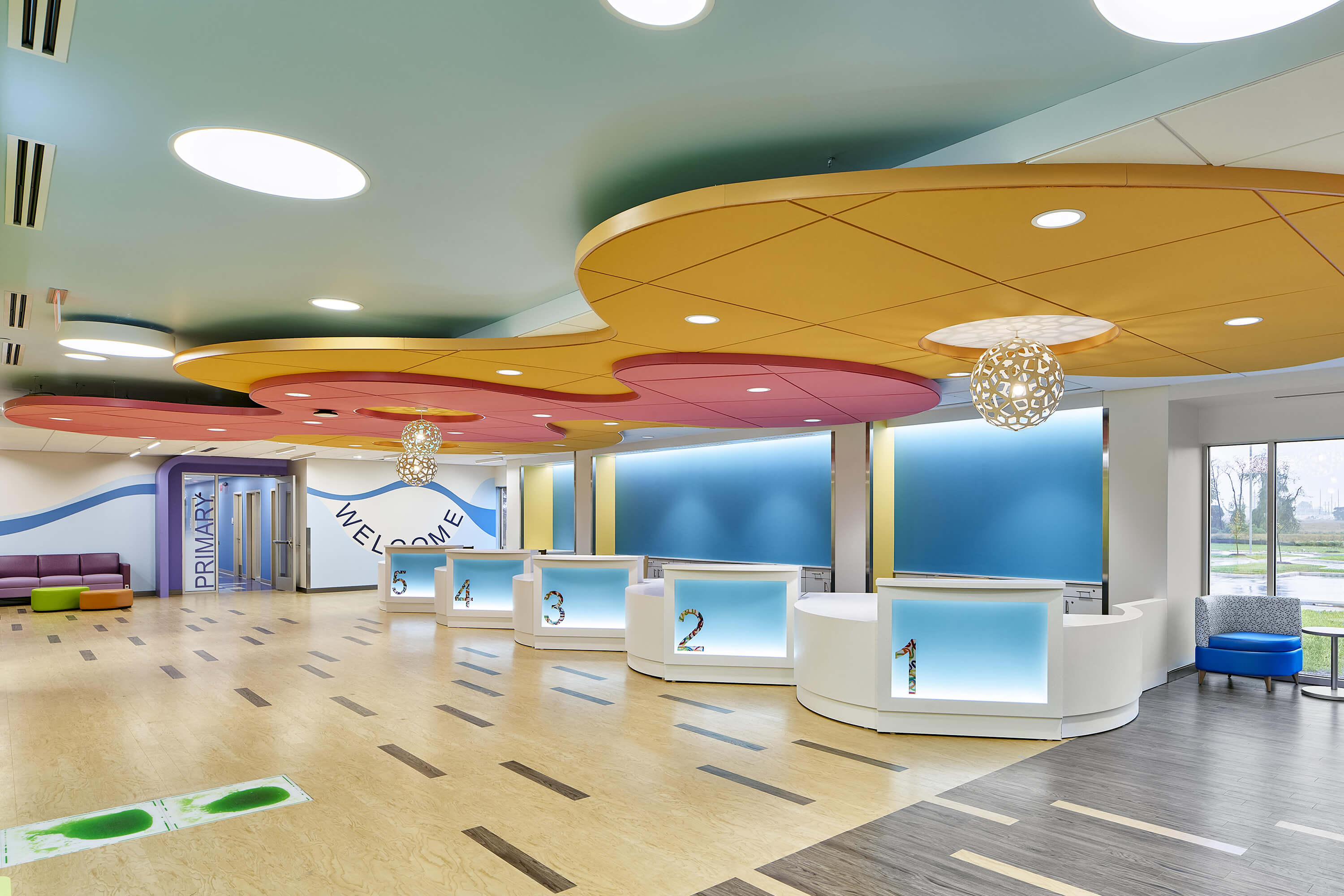 HealthCare Over $5 Million
Turner Construction Company
Nemours duPont Pediatrics and Senior Care - Sussex Campus
This complicated 36,000 sf multi-faceted healthcare fit out on the first floor of a medical office building included construction of specialized spaces for primary care, physical therapy, imaging, behavioral health, dental care and ophthalmology. The coordination of trades and complex specialized construction assemblies was admirably handled by the Turner Team. Getting the work done within strict COVID work protocols was also a challenge which was overcome through the use of the latest systems and technologies available. Turner utilized Procore with onsite iPads, EarthCam 360 high resolution photography to coordinate with the remote design team and BIM software to minimize spatial conflicts between the many complex medical systems, devices, and specialty assemblies.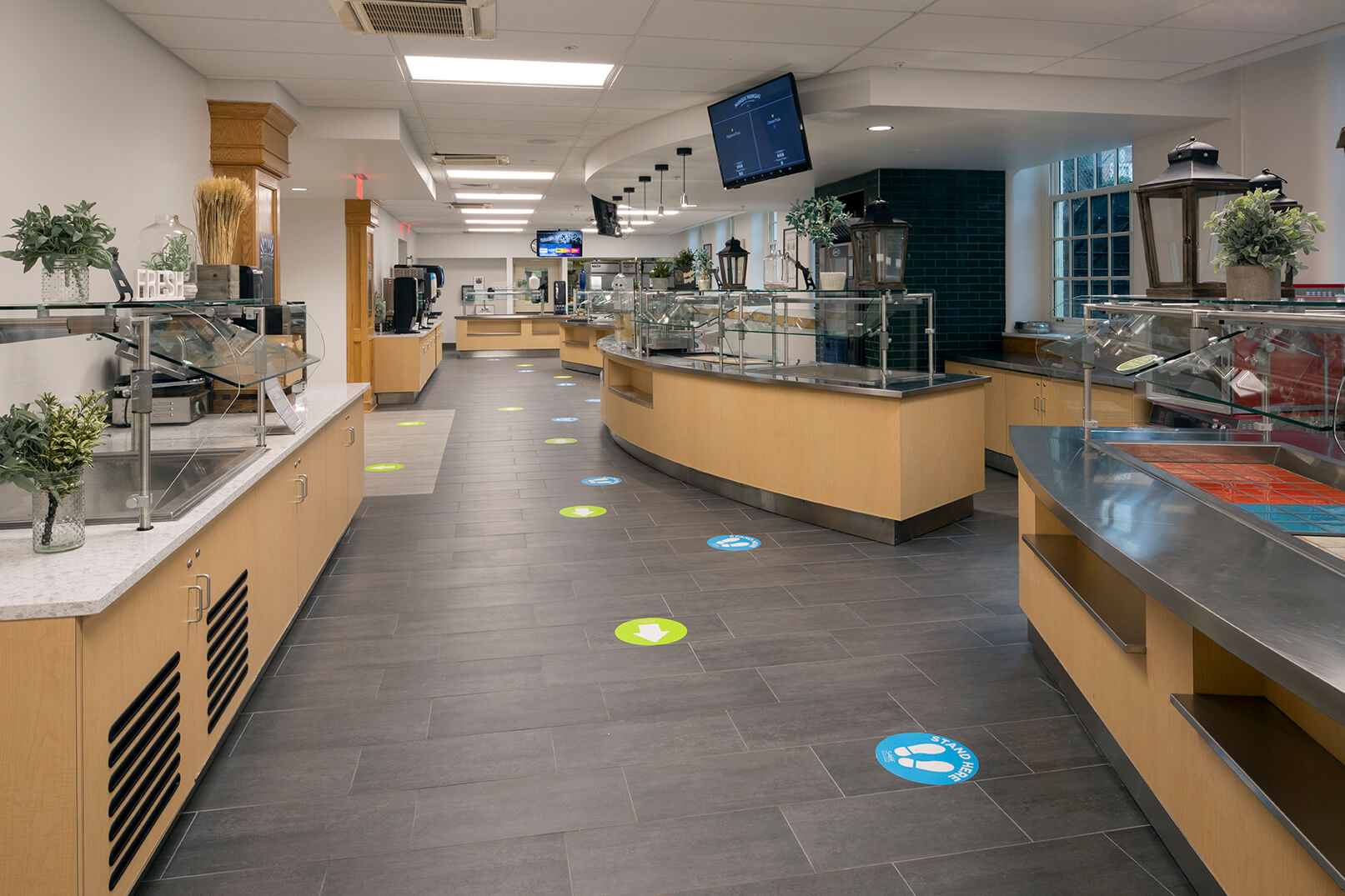 General Education Over $5 Million
The Whiting-Turner Contracting Company
Tower Hill School Dining Commons Renovation and Addition
The folks at Whiting-Turner had their hands full when they accepted this commission to construct a new dining commons landlocked within an existing interior courtyard at Tower Hill Schools 100 year old campus. The care and methodical planning that was clearly devised by the Whiting-Turner team, as well as the careful phasing and staging that was utilized, enabled the adjacent structures to be fully occupied during much of the construction activities. The result of such painstaking efforts was a beautifully-executed jewel box space that will serve as a lively center of activity on the Tower Hill Campus for decades to come.